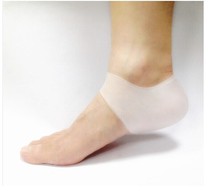 Overview
Plantar fasciitis is a common, painful foot condition. Patients, and sometimes doctors often confuse the terms plantar fasciitis and heel spurs. Plantar fasciitis refers to the syndrome of inflammation of the band of tissue that runs from the heel along the arch of the foot; a heel spur is a hook of bone that can form on the heel bone (calcaneus). About 70% of patients with plantar fasciitis have been noted to have a heel spur that can be seen on x-ray. Plantar fasciitis is most often seen in middle-aged men and women, but can be found in all age groups. The condition is diagnosed with the classic symptoms of pain well focused deep in the heel area of the bottom of the foot. Often the pain from plantar fasciitis is most severe when you first stand on your feet in the morning. Pain often subsides quite quickly, but then returns after prolonged standing or walking. Plantar fasciitis is sometimes, but not always, associated with a rapid gain of weight. It is also sometimes seen in recreational athletes, especially runners. In these athletes, it is thought that the repetitive nature of the sports causes the damage to the fibrous tissue that forms the arch of the foot.
Causes
Repeated small injuries to the fascia (with or without inflammation) are thought to be the cause of plantar fasciitis. The injury is usually near to where the plantar fascia attaches to your heel bone. You are more likely to injure your plantar fascia in certain situations. For example, if you are on your feet for a lot of the time, or if you do lots of walking, running, standing, etc, when you are not used to it. (Plantar fasciitis may be confused with 'Policeman's heel', but they are different. Policeman's heel is plantar calcaneal bursitis - inflammation of the sack of fluid (bursa) under the heel bone. This is not as common as plantar fasciitis.) Also, people with a sedentary lifestyle are more prone to plantar fasciitis. If you have recently started exercising on a different surface, for example, running on the road instead of a track. If you have been wearing shoes with poor cushioning or poor arch support. If you are overweight this will put extra strain on your heel. If there is overuse or sudden stretching of your sole. For example, athletes who increase running intensity or distance; poor technique starting 'off the blocks', etc. If you have a tight Achilles tendon (the big tendon at the bottom of your calf muscles above your heel). This can affect your ability to flex your ankle and make you more likely to damage your plantar fascia. Often there is no apparent cause for plantar fasciitis, particularly in older people. A common wrong belief is that the pain is due to a bony growth or 'spur' coming from the heel bone (calcaneum). Many people have a bony spur of the heel bone but not everyone with this gets plantar fasciitis.
Symptoms
Patients with plantar fasciitis typically experience pain underneath the heel and along the inner sole of the foot. In less severe cases, patients may only experience an ache or stiffness in the plantar fascia or heel that increases with rest (typically at night or first thing in the morning) following activities which place stress on the plantar fascia. These activities typically include standing, walking or running excessively (especially up hills, on uneven surfaces or in poor footwear such as thongs), jumping, hopping and general weight bearing activity. The pain associated with this condition may also warm up with activity in the initial stages of injury. As the condition progresses, patients may experience symptoms that increase during sport or activity, affecting performance. In severe cases, patients may walk with a limp or be unable to weight bear on the affected leg. Patients with this condition may also experience swelling, tenderness on firmly touching the plantar fascia (often on a specific spot on the inner aspect of the heel) and sometimes pain on performing a plantar fascia stretch.
Diagnosis
Most cases of plantar fasciitis are diagnosed by a health care provider who listens carefully to your description of symptoms. During an examination of your feet, your health care provider will have to press on the bottom of your feet, the area most likely to be painful in plantar fasciitis. Because the pain of plantar fasciitis has unique characteristics, pain upon rising, improvement after walking for several minutes, pain produced by pressure applied in a specific location on your foot but not with pressure in other areas, your health care provider will probably feel comfortable making the diagnosis based on your symptoms and a physical examination. Your health care provider may suggest that you have an X-ray of your foot to verify that there is no stress fracture causing your pain.
Non Surgical Treatment
If you protect your injured plantar fascia appropriately the injured tissues will heal. Inflammed structures will settle when protected from additional damage, which can help you avoid long-standing degenerative changes. Plantar fasciitis may take from several weeks (through to many months) to heal while we await Mother Nature to form and mature the new scar tissue, which takes at least six weeks. During this time period you should be aiming to optimally remould your scar tissue to prevent a poorly formed scar that may become lumpy or potentially re-tear in the future. It is important to lengthen and orientate your healing scar tissue via massage, gentle stretches, and light active exercises. In most cases, your physiotherapist will identify stiff joints within your foot and ankle complex that they will need to loosen to help you avoid plantar fascia overstress.A sign that you may have a stiff ankle joint can be a limited range of ankle bend during a squat manoeuvre. Your physiotherapist will guide you.
Surgical Treatment
When more conservative methods have failed to reduce plantar fasciitis pain, your doctor may suggest extracorporeal shock wave therapy, which is used to treat chronic plantar fasciitis. Extracorporeal shock wave therapy uses sound waves to stimulate healing, but may cause bruises, numbness, tingling, swelling, and pain. When all else fails, surgery may be recommended to detach the plantar fascia from the heel bone. Few people need surgery to treat the condition.
Prevention
Every time your foot strikes the ground, the plantar fascia is stretched. You can reduce the strain and stress on the plantar fascia by following these simple instructions: Avoid running on hard or uneven ground, lose any excess weight, and wear shoes and orthotics that support your arch to prevent over-stretching of the plantar fascia.